Hoi An Street Food Vietnam
There's something about camping down on a tiny plastic stool and experiencing dining the Vietnamese way in Hoi An, even if said stool is hanging treacherously over the gutter of a busy road, you're ankle deep in bits of screwed up paper and you've not a clue what you'll be served because you've followed that mantra of busy is best. There's that rewarding rush you get from a regular diner clocking the foreigner at the bench and giving you a nod of approval, the slightly elevated adrenaline level that surges when you not only don't know the dish, but you're not quite sure of the etiquette to follow once your meal is plonked down in front of you under the watchful stare of every diner present.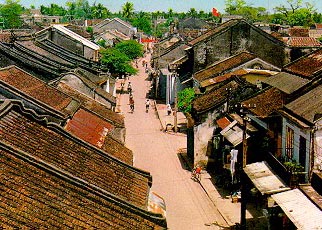 You'll notice the cook is bursting with pride because she knows you could have chosen to dine at Mai Fish, but you didn't, you chose quan tu sang and in Hoi An, when a foreigner stamps their approval on your food, you've made it — just look at Ms Phuong of bahn mi fame. Your vendor is going to be the talk of the market by morning, especially if she was clever enough to charge you an extra few dong! For alfresco seafood pull up a mat on An Bang beach around sunset.
Pull up a mat on An Bang beach around sunset. The great thing about Hoi An is you don't need to venture too far out of the tourist (ahem) old town zone to stumble across a wealth of one-dish restaurants and street stalls that rarely attract the travelling masses. Hai Ba Trung Street (north of Ba Trieu) as far as An Bang beach, the back roads of An Hoi (avoid the covered tourist stalls to the far left of the bridge) and the little restaurants on the far side of the bus station near Le Hong Phong (an amazing goat curry place is one shop in from the corner) are all an easy five-minute cycle ride out of the chaos of "buy something" land.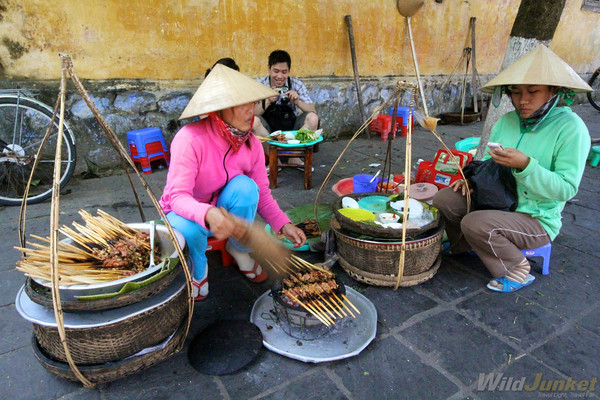 Arguably the absolute best meal to take in on the streets is breakfast. Bun bo (a bit like pho), bahn bao (pork-stuffed steamed bun) and bahn mi op la (omelette sandwich) stalls start serving at dawn. It's an early start — you'll need to be there before 07:30 — but you'll get to see Hoi An in a whole new light, as a town without tourists. It's heavenly.
Lunch is served between 11:00 and 13:00. This is when you'll be met by stalls laden with com ga, cao lau and bun cary (meat, fish or tofu curry). Dinner is served from 16:00 till stall holders run dry. This is when they fire up the barbecue and the scent of smokey marinated pork permeates through the petrol fumes. If you're lucky you might even come across one of the "whole pig on a spit" cafes, where they will carve off slices of slow roasted pork and serve with a side of bahn mi – there's a joint by the traffic lights on the old Da Nang Road about two kilometres from the bus station.
As for prices, expect to pay around 25,000 VND and for a large dish around 35,000 VND. Keep an eye out to see what others are paying and if your charming vendor crosses your price tolerance level, barter quietly. Don't make her look foolish in front of her customers; remember the market gossip tomorrow.
Twenty Reasons to visit Hoi An
1. STREET FOOD
As with most places in Vietnam, the street food in Hoi An is mouth-wateringly delicious and very affordable. Hoi An, in particular, has several local specialties, including white rose dumplings and cao lau, which are fat noodles served with pork and mint. Authentic cao lau noodles are soaked in water collected from ancient Cham wells around Hoi An. White rose shrimp dumplings are arranged prettily on a plate in the shape of a rose. The dishes are on the menu in every restaurant in the city and usually cost under $2.
2. OLD TOWN
In balance: the art of everyday life in Hoi An.
In balance: the art of everyday life in Hoi An.
Soak up the UNESCO World Heritage charm of the Old Town. During the 16th and 17th centuries,
Hoi An was a busy spice trading centre. These days, the historic quarter is an enchanting streetscape of old Vietnamese, Japanese and Chinese houses, once occupied by merchants whose homes and shop houses have been converted into galleries, antique stores, restaurants and bars.
Buy a ticket at the Hoi An Office of Tourist Services, 120,000 dong ($6), for entry to 22 historic temples, museums and assembly halls. See hoianancienttown.vn
Light and bright: a lantern shop in Hoi An.
Light and bright: a lantern shop in Hoi An. Photo: Getty Images
3. THE RIVER
Before its spice trading heyday, Hoi An was a major port of the ancient Cham Kingdom between the seventh and 10th centuries. Its success was partly due to its accessible location on the banks of the Hoai (also known as Thu Bon) River. These days, the picturesque waterscape of colourful wooden boats draws people to the river, where you can soak up the historic ambience on a boat ride. A boat trip costs about $3 an hour.
4. IT'S EASY ON THE BUDGET
Picture perfect: White rose shrimp dumplings.
Picture perfect: White rose shrimp dumplings. Photo: Getty Images
Travellers looking for a holiday that won't break the bank will love this destination. A bottle of beer costs between $1 and $2 in a restaurant, a bowl of pho around $1.50, a massage in a parlour between $5 and $10. Hotels by the beach and in the Old Town cater for a range of budgets. A room in a budget hotel can cost as little as $20 a night, while a locally owned four-star resort by the beach costs between $130 and $200 a night.
5. ROMANTIC ATMOSPHERE
A stroll at sunset; cocktails in a character bar; an al fresco dinner at dusk in a riverside cafe in the Old Town are the ingredients that makes Hoi An an ideal place for couples. The historic quarter and its lovely riverside setting are undeniably romantic. In the 1900s, wealthy French traders built grand villas on the long blocks between the road and the river. One of the original villas, built by a French family who used it as a home and office for several decades, is now one of the town's most famous eateries, Brothers Cafe. See brothercafehoian.com
6. THE BEACH
If reclining on a lounger with a cocktail in hand is your idea of a beach holiday, you won't be disappointed. The main tourist beach, Cua Dai, is about five kilometres from the Old Town. Cua Dai isn't the best surfing beach but it has a choice of beachside resorts that offer activities such as wind surfing, kayaking and jet skiing. The locally owned Palm Garden Resort has lovely landscaped gardens and great cocktails. See palmgardenresort.com.vn
7. GOLF COURSES
Golfers take note. The coastal strip between Hoi An and Danang (30 kilometres away) is developing a reputation as a prestigious golfing destination. There are three world-class golf courses: the Greg Norman-designed Danang Golf Club; 2010 Ryder Cup-winning captain Colin Montgomerie's links course; and Laguna Lang Co GC, designed by Nick Faldo. Luxury villa green fees at Danang Golf Club are $100 (weekdays), $135 (weekends), dananggolfclub.com.
8. GREAT SHOPPING
Hoi An's grid of historic houses is a retail therapy nirvana, jam-packed with galleries, souvenir, craft, clothing and shoe shops. Arrive with an empty suitcase and you'll fill it in no time. With more than 400 tailors and rows of shoemakers, you can have shoes and clothes custom made for a lot less than it would cost to buy off the rack at home. Some of the designs on display are a little dated so it's a good idea to bring a favourite suit or dress for the tailor to copy. Tailors and shoemakers work swiftly and can complete an entire wardrobe in a day.
9. CHINA BEACH
Known for its starring role in the movie Apocalypse Now, China Beach conjures images of helicopters, surfing and napalm. The beach was where American ground combat units waded ashore to establish a base in Vietnam. Seven years of turmoil followed the first landing. After US forces withdrew from Danang in 1972, China Beach became famous worldwide. It was also the title of a popular 1980s television series depicting a field hospital during the war. These days, it's a popular spot for holiday makers.
10. COOKING CLASSES
With access to fresh produce, farmers' markets and a long culinary tradition, Hoi An is a top spot to learn Vietnamese cooking. Many restaurants in town offer cooking classes, including Morning Glory, which was one of the first cooking schools in Hoi An, and the Red Bridge Cooking School, which is a pleasant river boat ride from the centre of Hoi An. Red Bridge has a tranquil riverside setting away from the clamour. There's a restaurant, bar and swimming pool. The cooking class is hands on and entertaining. A half-day cooking school costs $29. See visithoian.com/redbridge.
11. BICYCLES AND CYCLOS
Unlike Hanoi or Ho Chi Minh City, where being on two wheels is not for the faint hearted, Hoi An's Old Town is a breeze to cycle around. Hiring a bicycle is cheap (about $2 a day) and bicycles are available in the Old Town and through most hotels. As the weather is often warm and humid, a cyclo (three-wheeled bicycle pedalled by a hard-working driver) is a more relaxing means of transport. Expect to pay about $4 an hour (including tip).
12. THE MARKETS
Mangostene, rambutan and papaya are some of the sweet juicy tropical fruits sold in abundance at Hoi An's lively produce market. The market is a kaleidoscope of colour and a hub of activity. Make sure to visit first thing in the morning for the freshest produce. Look for Vietnamese spices, which are sold in sealed packets and can be brought home as gifts. Bot Ngu Vi Huong (five aroma powder) is great for seasoning meat. See wendywutours.com.au.
13. FISHING
Being a coastal region, many locals are expert fishermen so visiting a fishing village and experiencing the life of a fisherman is a key cultural experience. Tours offer visitors a chance to learn to fish like a local. You help lift the big fishing nets out of the water, use baskets to scoop the fish out of the nets and spread the nets in the water again.
14. FUSION COCKTAILS AND CUISINE
Beyond the run-of-the-mill street cafes, fusion food and drinks, there is a trend for Vietnamese gourmet dining. Restaurants such as Ancient Faifo Restaurant and Morning Glory dish up creative cuisine that looks as beautiful as it tastes. The meals are a twist on traditional dishes and are stylishly presented. Think chocolate tempura and ice-cream. As the sun goes down, a table in a restaurant in the Old Town is an excellent way to wind down with a cocktail or two, or three. Mango martini or dragon fruit daiquiri, anyone? See ancientfaifo.com.vn.
15. MY SON TEMPLES
Fifty kilometres from Hoi An, My Son is a collection of 70 Hindu temples dedicated to Shiva. Constructed between the 4th and 14th centuries, it was the spiritual capital of the Champa rulers, often compared to Borobudor and Angkor Wat. Much of My Son was destroyed in the Vietnam War but there are enough structures remaining to make it a worthwhile day trip. Indiana Jones would love it.
16. KIM BONG ISLAND
A ferry ride from Hoi An, Kim Bong Island is a leap into the past, with a village atmosphere and rural scenery. No cars are allowed so rent a bicycle. The island is a woodworking centre, where generations of craftsmen have been responsible for many of the historic buildings in the ancient capital of Hue as well as Hoi An's Old Town.
17. VISIT A MUSEUM
The Old Town has a few museums that offer insights into aspects of Hoi An's past. These include the Museum of Trade Ceramics, which showcases Chinese, Japanese and Vietnamese ceramics from the 16th to 18th centuries, the Museum of Folk Culture, located in the Old Town's largest wooden house, and the Museum of History and Culture, which has photographs, maps, statues and artefacts from different eras.
18. VISIT A TEMPLE
Temples, pagodas, and shrines abound, including those built built by Chinese communities. Some are rather impressive, such as the Ong pagoda (24 Tran Phu Street), built in 1653 in honour of an ancient Chinese general of China's "three kingdom" and the 17th century Phuc Kien (or Fukien) Assembly Hall (46 Tran Phu Street). The hall was built by the largest Chinese ethnic group in Hoi An, the Fukien. In the pagoda, prayer coils hang from the roof and impressive statues of red and green-skinned deities grin from behind glass cabinets. A statue of the goddess Thien Hau bestows protection and luck to sailors.
19. CHAM ISLANDS
About 20 kilometres to the east of Hoi An is a string of islands with beaches and lush forested hills. Only one of the eight Cham Islands is inhabited with fishing villages. A day trip offers the opportunity to explore, swim, snorkel and scuba dive. There are dive sites suitable for various levels of diving, include coral gardens, reefs and underwater pinnacles. See vietnamscubadiving.com.
20. MID-AUTUMN MOON FESTIVAL
Halloween meets Thanksgiving each August when the streets of Hoi An become a fairyland. Children carry colourful lanterns fashioned into animal shapes during Tet Trung Thu (or Mid-Autumn Moon Festival). Shops sell sweet moon cakes with a variety of fillings such as lotus seeds, ground beans, orange peels and green beans.
HANOI STREET FOOD PACKAGE TOUR Included: 7 different street food+ 3differrent drink
20 delicious street foods with low cost less than 10000 VND
1. Fried steamed wheat flour cake : fried stream flour Fried steamed wheat flour cake price is about 4000 – 6000 VND, this food is often in the meal in the afternoon. Enjoy with sour sweet sauce or chili sauce
2. Grilled meat by stick: grilled meat : Grilled meat by stick has many lovers especial kids. One price is about 6000 – 10000 VND, you could pay more 2000 VND to have a bread with grilled meat stick. Walking on the streets of Hanoi in the after noon, you can see grilled shops near the side walk with great smell!
3. Banana cake, yam cake: Only with 5000 for one cake, The main ingredients are banana, yam and flour then fry in cooking oil. They are fat food so you could only 1 – 2 cake for once
4. Gio cake: Gio like the name of famous food of Vietnam – Gio Cha but have no Gio in it. This food is made by rice powder and core : chopped black mushroom and meat. The cost is only 7000 – 10000 VND
5. Pillow cake:You are right J.its name like its shape like a pillow. The core inside is meat and quail egg, cost from 7000 – 9000 VND. Pillow cake is often sale in the winter, and people like it. Enjoy with sour sweet sauce and salad
6. Quay:Cheap price is 2000 – 3000 VND/per, Quay is often eaten with salad and sauce as pillow cake. Many people like to put this food in HOT porridge or Pho.
7. Fried food with stick:You can find these food in front of schools for the pupil with cheap price about 5000 – 7000 VND. It's really a small party for pupil after the school time with full of smile and sharing, there are many kind of stick such as: Hot dog, fried Nem Chua, fish and shrimp…
8. Fried cake: fried cake shopThere are two type of Fried cake depend on their core: the sweet one with sugar and salty one with meat, black mushroom. The main ingredients are rice, peanut powder and honey or sugar. The price is only 2000 – 3000 VND, the salty one price is 4000 VND and enjoy with sauce.
9. Trung Vit Lon: duck egg : Have the babe duck in the eggs, a nutri-food but many foreingers and visitors dont like this food :D . you can find them in Hang Rong shop on ervery streets of Hanoi for breakfast or super. The price is about 6000 – 8000 VND, enjot with salt, ginger.
10. Trung cut lon: quail egg : The same with Trung Vit Lon but Quai's eggs not Duck's eggs. I love this food and often buy them from local market to cook. The price in local market only about 10000VND/10 eggs and in the street shop is about 10000VND/5 eggs coz the sauce and they boil them for you. The sauce is made of lemon juice, salt, ginger and pepper.
11. Sugar cane juice-sugar cane juice on street : The price only from 8000 – 10000 VND, this is the great drink for HOT summer and nutritious drink. You can find them everywhere at the drink shop with a sugar cane juice machine, sit down, call for a glass of sugar cane juice and wait for 5 10 minutes. You also walk on streets with a nilon bag of sugar cane juice if you don't like to sit at the shop.
12. Banh Nhung-nhung shop : 5000 VND for a stack of Banh Nhung, it's not common food of street food Hanoi. The kids often like them coz the crack.
13. Bo bia: My favorite street foods, I don't know why name is Bo Bia but it's really delicious. The ingredients are coconut fibers, sesame and the special is piece of sugar and the "bark" of foods. This food is rolled as spring scroll, the price is only 5000VND, fantastic! What's a pity , there is now many Bo Bia shop in Hanoi now.
14. Trang Tien ice cream: Trang Tien is the name of street and also the name of famous brand ice cream in Hanoi, everybody in Hanoi know about it. The old brand name for 50 years. It's not only cheap with price 7000 – 8000 VND and also special by its taste. As its name, you can buy Trang Tien ice cream on Trang Tien street near the Sword lake. Don't like any ice cream shop in Hanoi, you can buy ice cream, sit on your bike and enjoy, there is many couple and full of smile - a dating place, or hold your ice cream on hand and walk around the sword lake.
15. Every kind of Bong-corn bong : Favorite street food for girls and kids, less fat and can eat in a long time. The price is only 6000 – 8000 /pack. They are often made of flour or cassava flour then fry.
16. Yogurt- sua chua nep cam: Food for ladies's skin , the different from Hanoi with other region that they often add more ingredents in yogurt to create taste such as: fruit or Nep Cam. The price only about 5000 VND.
17. Potato storm-fried potato : Cool name huh ! this new foods for kids, the price is about 10000 VND. The tase like many kind of fried potato.
18. Qua chua dam: fruits: The main ingredients are sour and green fruits such as: mango, plum, guava fruit… slice and mix with sugar, pepper powder become attractive foods. The price is about 8000 – 10000VNd/100 gram – depend on the fruit price.
19. Caramen: Hang Than caramen : An old food and maybe from the foreingers, the famou place to eat this food is Hang Than street
20. Tao pho: This is a unique food of Northern of Vietnam for Hot summer, the ingredient as tofu but near the last step to make tofu. The saler will slice Tao Pho to bowl, then pour flower sugar and ice to make a bowl of cool Tao pho. The price is about 5000- 7000VND/ bowl. You can find them on Hang Rong on streets of Hanoi with unique sound " Tao Pho de". Street food Hanoi Shops located at many narrow street of old quarter Hanoi