Top Ten Vietnam Street Foods
1. Beef noodles (Pho bo)
This could be the No 1 street food in Vietnam and most recognizable Vietnamese food outside of Vietnam. Originated from the North, but has found home in the South since long time, that's why we have "pho" in two different styles: northern and southern. According to some foodies, in Sài Gòn besides these two official northern and southern styles we still have some other "styles", but I would say it's more like taste. Good Pho should have all good three components: soup, beef and noodles! To me beef noodles should be a dish that inspires competitiveness and innovation in chefs, at that time everyone wants to claim the honor title "Beef noodles King"!
2. Broken rice (Com tam)
My all time favorite, but today "com tam" is quite different and to be honest, I don't like it as before. Com tam An Dương Vương or Kieu Giang are far from the best, too commercial! They make so many dishes to go with broken rice and by somehow it makes the broken rice lost the traditional taste as in the old days: broken rice with pork skin (com tam bi) or egg cake ! But even saying so, I still can enjoy good com tam at different places: simpler but more original! To me, most important for broken rice is the rice itself and fish sauce, flavorful rice and a little bit sweet, a little bit salty, a little bit spicy fish sauce and by the way don't forget to top broken rice with special minced green onion stirred in the oil (my hanh)!
3. Sticky rice (Xoi)
This is a great breakfast dish that give you a boost of added energy. Similar to beef noodles, sticky rice also has two styles: northern and southern and they are quite different. Example, corn sticky rice (xoi bap) in a northern style is very different from a southern and to me tastier! Sticky rice has sweet and salty. My favorite for sweet is a corn sticky rice in a northern style, there is many things: softly cooked corn mixed with sticky rice, topped with green mung bean, tasty fried shallots, sugar. For salty one n, my choice could be a sticky rice with dried shrimp, chinese sausage, green onion stirred with oil, flavored with soy sauce.
4. Saigon baguette (Banh my Sai Gon)
Along with beef noodles, Saigon baguette (bánh mỳ Saigon) is the most famous dish outside of Vietnam, something that tourist rave and hype about. But in Sài Gòn to taste the best Bánh mỳ, you should know the place! Not every place! A good, warm and crunchy bread is filled with many things! It could be several kinds of Vietnamese pork ham, liver paste (pate gan), veggies (cucumber, coriander, green onion, chili...) and sour things (đo chua) which made from pickled shreds of carrot and white radish!
5. Rice noodles (Bun)
There is many dishes with rice noodles. Many! I tried to count but then gave up. Because living in Sài Gòn I may know only those popular dishes here, but in North or Central? Anyway to me most popular dish with rice noodles (bun) could be bun thit nuong (rice noodles with grilled pork), bún riêu (rice noodles with sour crab soup), bún cha giò (rice noodles with deep fried spring rolls)! I personally select two to represent rice noodles: bún thit nướng for rice noodles served without soup category and bún riêu for rice noodles served in soup category!
It would be a big miss if I don't mention a glorious dish from Hue, super popular in Saigon! Beef noodles in Hue style, same as traditional beef noodles that I list down on the top, we can have this bún bò Hue for breakfast, lunch or late dinner! The most distinctive is its flavor - thanks to the special Hue shrimp paste (Ruoc Hue) and lemon grass added to the soup during cooking!
6. Roll cake (BAnh cuon)
Again and again we have two different: roll cake in a northern style, filled with pork meat (bánh cuon nhân thit) and roll cake in a southern style - we call bánh ướt (wet cake!). Both are made from rice, steamed and served with sweet, spicy fish sauce, ham and blanched bean sprouts, herbs. Both are most popular but wet cake (bánh ướt) could be more popular as street food in Sài Gòn as it's easy to sell from a moving cart! These days I saw many these carts on the street!
7. Papaya salad with pork liver (goi bò)
My childhood favorite snack and until now I'm happy to have it whenever I have a chance! Used to be one of the most popular snacks among the youth, esp. school teenagers. These days maybe the taste has been changed, we may not find this street stall selling this yummy papaya salad in front of many schools anymore but certain places are famous for this special salad. Made from shreds of young papaya, served in sour-sweet spicy sauce, topped with roasted peanut, Vietnamese basil, shrimp cracker and most important beef liver or lung (!?) that has been braised in secret aromatic dark sweet sauce with probably different spices!
8. Big noodles (Bánh canh)
I love the big noodles or I always call it jokingly "udon" due to its jumbo size! Vietnamese udon or bánh canh! We have a quite large variation of bánh canh, depends on the area. In South we have bánh canh with pork knuckle (bánh canh giò heo), or with crab (bánh canh cua). Very popular. Then in Central we have bánh canh with crab in a Huế style or with snakehead (bánh canh cá lóc)...We even have sweet bánh canh in coconut soup, very tasty, the speciality from Mekong Delta! Bánh canh is good for breakfast or light meal before dinner! My all-time favorite is bánh canh with crab. The soup with crab meat, crab cake or some other stuffs, we need to add only some fresh chili, squeeze some drops of lime juice, all of it makes bánh canh heavenly good!
9. Yellow noodles
Originated from China, but this noodles dish already found home in here, probably hundred years ago! I did try yellow noodles in Beijing and in Hong Kong, I may prefer the Vietnamese version, probably I already used to the local taste here! Good for breakfast or late night meal! Yellow noodles can go with either seafood, chicken, pork or little of everything . I love the noodles texture - should be a bit hard, not too soft! And, of course, the soup itself!
10. Fresh spring roll (Goi cuon)
If talking about the roll in Vietnam, it would take days...as we have so many things that we can roll in rice paper (bánh tráng)! The most popular among the rolls - deep fried spring rolls but as street food - by somehow fresh spring roll or we simply call "gỏi cuốn" - more popular! Just a good rice paper, we roll with rice noodles, veggies and veggies, then cooked pork meat (thit heo luoc) and cooked prawn! Dip sauce is sweet soy sauce mixed with chopped roasted peanut!
Top Ten Street Food in Ho Chi Minh Vietnam
1. Cua Lot – Soft Shell Crabs : Why: Because I dream about crustaceans smothered in a sweet and tart tamarind sauce every other night. Don't forget to order a plate of glass noodles with hunks of fresh crab meat (mien xao cua). Tip: If it's too hot downstairs, ask to be seated upstairs because its got A/C. Where: Quan 94 (84 Dinh Tien Hoang Street, District 1)
2. Banh Mi – Vietnamese Sandwiches : Why: Because they showcase French and Vietnamese fusion cuisine at its finest. Plus they're quick, easy, cheap and delicious. Where: For the classic cold cut sandwich with pate, mayo, cucumber spears and pickled veggies, head to any of the vendors spread throughout the city (look for the carts plastered with the Laughing Cow logo). Ask for banh mi thit nguoi. For the freshest bread selection, purchase one in the morning or evening.
3. Mon An Chay - Vietnamese Vegetarian Fare :Why: Because Vietnamese vegetarian fare sticks to familiar flavors and ingredients, and unlike scientifically derived products like Boca Burgers, the fresh vegetables and soy products employed at com chay restaurants are skillfully transformed into wholly satisfying delights. Where: Huong Vien (101 Vuon Chuoi Street, District 3)—the xoi ga chay (sticky rice with "chicken") is especially stellar and unbelievably similar to the meaty xoi man sold street side. Another winning dish is the banh hoi thit nuong (vermicelli noodle cakes topped with grilled "pork"). Giac Duc (492 Nguyen Dinh Chieu, District 3)—get the barbecued pork (thit heo quay). Pho Chay Nhu (54 Truong Quyen Street, District 3)—go for the com tam bi cha thit nuong and pho.
4. Ca Kho To – Caramelized Fish in Claypot : Why: Because it's a classic dish that every Vietnamese family prepares and eats at home. Pick a fatty fish like ca hu, and spoon a generous amount of caramelized sauce atop the fish and rice. The sauce is so killer that I'd be quite content eating it with plain 'ol white rice. Where: Ngu Vien (40 Ky Dong Street, District 3) * CLOSED *
5. Com Tam Bi Cha Thit Nuong Trung Opla – Broken Rice with Three Types of Pork and a Fried Egg : Why: Because it contains pork prepared three beautiful ways. My favorite is the bi—a mixture of pork skin and meat. The fried egg (trung opla) on top is a must! Where: Com Tam Moc (85 Ly Tu Trong Street, District 1), Com Tam Di Nam (253 Khanh Hoi Street, District 4)
6. Cha Gio – Vietnamese Egg Rolls : Why: Because the blistered wrappers and porky innards are a dynamic duo. Plus, let's not kid ourselves, everything tastes better deep-fried! Don't forget to wrap 'em in herbs and lettuce and dip 'em in nuoc mam. Where: Fried Food Stand (91 Cach Mang Thang 8 Street, District 1), Banh Xeo 46A (46A Dinh Cong Trang Street, District 1)
7. Thit Nuong – Charcoal Grilled Pork : Why: Because the meat's marinade—fish sauce, sugar and lemongrass—is sensational. Whether paired with cold vermicelli noodles in bun thit nuong or tucked inside a baguette in banh mi thit nuong, Vietnamese-style charcoal grilled pork is tasty business. Where: No Name (187 Co Giang Street, District 1),Gia Hoi 2 (2 Nguyen Huy Tu Street, District 1)
8. Che Troi Nuoc – Tapioca Dumplings with Mung Bean Filling : Why: Because che—Vietnamese sweet soups—are a good pick-me-up mid-day when the sun beats down relentlessly. Also, it's not every day one gets to enjoy a beany dessert! My favorite is che troi nuoc—tapioca orbs filled with mung bean paste and served soaked in coconut milk with a sprinkling of toasted sesame seeds. Che thap cam with coconut milk, beans, jellies and crushed ice is another great option. Where: Che My (91 Nguyen Thai Hoc Street, District 1)
9. Seafood a la Sidewalk :Why: Because fraternizing with locals, taking shots of homemade brew, and eating fresh seafood is a sure-fire formula for a damn good evening. The grilled mussels with scallion oil and peanuts (chem chep nuong) are a must, as are the blood cockles sauteed in tamarind sauce (so huyet ran me). Where: Be Oc (58/53 Vinh Khanh Street, District 4)
10. Banh Xeo – Vietnamese Crepes : Why: Because bigger doesn't always mean better. These Central Vietnam-style banh xeo are less than half the size of the southern ones, but are packed with lots more flavor and an addicting crunch. Bo la lot (beef wrapped in betel leaves) makes an ideal accompaniment. Where: No Name (1 Bac Hai, District 10 – on the corner of Cach Mang Thang Tam and Bac Hai streets)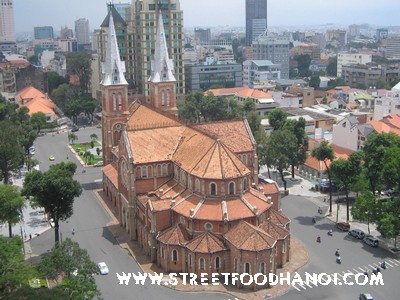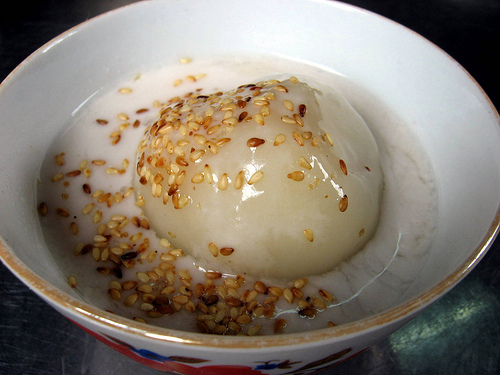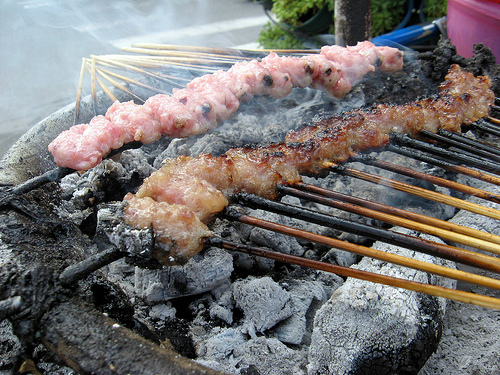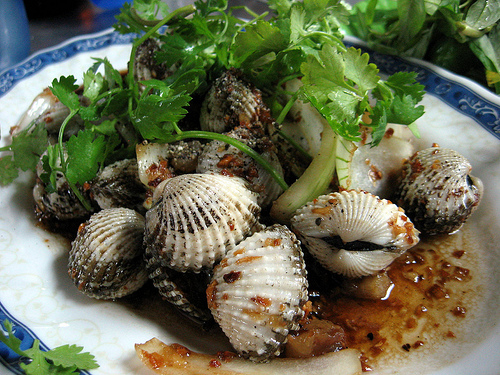 Street Food Drink Hanoi Vietnam - Best Street Food in Hanoi - Best Street Food Tour Hanoi
HANOI STREET FOOD PACKAGE TOUR Included: 7 different street food+ 3differrent drink
20 delicious street foods with low cost less than 10000 VND
1. Fried steamed wheat flour cake : fried stream flour Fried steamed wheat flour cake price is about 4000 – 6000 VND, this food is often in the meal in the afternoon. Enjoy with sour sweet sauce or chili sauce
2. Grilled meat by stick: grilled meat : Grilled meat by stick has many lovers especial kids. One price is about 6000 – 10000 VND, you could pay more 2000 VND to have a bread with grilled meat stick. Walking on the streets of Hanoi in the after noon, you can see grilled shops near the side walk with great smell!
3. Banana cake, yam cake: Only with 5000 for one cake, The main ingredients are banana, yam and flour then fry in cooking oil. They are fat food so you could only 1 – 2 cake for once
4. Gio cake: Gio like the name of famous food of Vietnam – Gio Cha but have no Gio in it. This food is made by rice powder and core : chopped black mushroom and meat. The cost is only 7000 – 10000 VND
5. Pillow cake:You are right J.its name like its shape like a pillow. The core inside is meat and quail egg, cost from 7000 – 9000 VND. Pillow cake is often sale in the winter, and people like it. Enjoy with sour sweet sauce and salad
6. Quay:Cheap price is 2000 – 3000 VND/per, Quay is often eaten with salad and sauce as pillow cake. Many people like to put this food in HOT porridge or Pho.
7. Fried food with stick:You can find these food in front of schools for the pupil with cheap price about 5000 – 7000 VND. It's really a small party for pupil after the school time with full of smile and sharing, there are many kind of stick such as: Hot dog, fried Nem Chua, fish and shrimp…
8. Fried cake: fried cake shopThere are two type of Fried cake depend on their core: the sweet one with sugar and salty one with meat, black mushroom. The main ingredients are rice, peanut powder and honey or sugar. The price is only 2000 – 3000 VND, the salty one price is 4000 VND and enjoy with sauce.
9. Trung Vit Lon: duck egg : Have the babe duck in the eggs, a nutri-food but many foreingers and visitors dont like this food :D . you can find them in Hang Rong shop on ervery streets of Hanoi for breakfast or super. The price is about 6000 – 8000 VND, enjot with salt, ginger.
10. Trung cut lon: quail egg : The same with Trung Vit Lon but Quai's eggs not Duck's eggs. I love this food and often buy them from local market to cook. The price in local market only about 10000VND/10 eggs and in the street shop is about 10000VND/5 eggs coz the sauce and they boil them for you. The sauce is made of lemon juice, salt, ginger and pepper.
11. Sugar cane juice-sugar cane juice on street : The price only from 8000 – 10000 VND, this is the great drink for HOT summer and nutritious drink. You can find them everywhere at the drink shop with a sugar cane juice machine, sit down, call for a glass of sugar cane juice and wait for 5 10 minutes. You also walk on streets with a nilon bag of sugar cane juice if you don't like to sit at the shop.
12. Banh Nhung-nhung shop : 5000 VND for a stack of Banh Nhung, it's not common food of street food Hanoi. The kids often like them coz the crack.
13. Bo bia: My favorite street foods, I don't know why name is Bo Bia but it's really delicious. The ingredients are coconut fibers, sesame and the special is piece of sugar and the "bark" of foods. This food is rolled as spring scroll, the price is only 5000VND, fantastic! What's a pity , there is now many Bo Bia shop in Hanoi now.
14. Trang Tien ice cream: Trang Tien is the name of street and also the name of famous brand ice cream in Hanoi, everybody in Hanoi know about it. The old brand name for 50 years. It's not only cheap with price 7000 – 8000 VND and also special by its taste. As its name, you can buy Trang Tien ice cream on Trang Tien street near the Sword lake. Don't like any ice cream shop in Hanoi, you can buy ice cream, sit on your bike and enjoy, there is many couple and full of smile - a dating place, or hold your ice cream on hand and walk around the sword lake.
15. Every kind of Bong-corn bong : Favorite street food for girls and kids, less fat and can eat in a long time. The price is only 6000 – 8000 /pack. They are often made of flour or cassava flour then fry.
16. Yogurt- sua chua nep cam: Food for ladies's skin , the different from Hanoi with other region that they often add more ingredents in yogurt to create taste such as: fruit or Nep Cam. The price only about 5000 VND.
17. Potato storm-fried potato : Cool name huh ! this new foods for kids, the price is about 10000 VND. The tase like many kind of fried potato.
18. Qua chua dam: fruits: The main ingredients are sour and green fruits such as: mango, plum, guava fruit… slice and mix with sugar, pepper powder become attractive foods. The price is about 8000 – 10000VNd/100 gram – depend on the fruit price.
19. Caramen: Hang Than caramen : An old food and maybe from the foreingers, the famou place to eat this food is Hang Than street
20. Tao pho: This is a unique food of Northern of Vietnam for Hot summer, the ingredient as tofu but near the last step to make tofu. The saler will slice Tao Pho to bowl, then pour flower sugar and ice to make a bowl of cool Tao pho. The price is about 5000- 7000VND/ bowl. You can find them on Hang Rong on streets of Hanoi with unique sound " Tao Pho de". Street food Hanoi Shops located at many narrow street of old quarter Hanoi